Apr. 2021
Booklet:Climate Change Adaptation Good Practices by Japanese Private Sector
This booklet is presented as part of the "Fiscal Year 2020 Study on Countermeasures for Issues related to Climate Change (Visualization of Contributions of Japanese Companies in Adaptation Fields in Developing Countries)" by Ministry of Economy, Trade and Industry of Japan. The article on Nippon Basic Co.,Ltd. is No.25 (Page 53).
Jul. 2019
Cycloclean provided water supply activity in the flood area of Bangladesh.
At Chowhali and Sirajgan in Bangladesh, where typhoons were flooded,in July 2019 Oxfam's staff used a water supply system based on our Bangladeshi, Cycloclean(bicycle water purification system). We were able to provide safe drinking water to the people in the affected areas.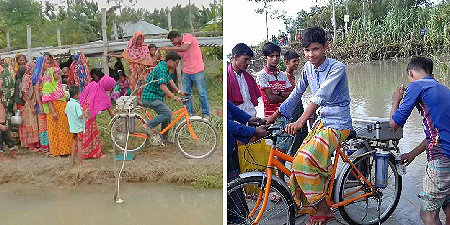 Jul. 2019
Instructed how to operate the Desaliclean 9000 at the Oxfam Training Center.
On July 1-3, at the Oxfam training center in Barguna, the southernmost delta region of Bangladesh, We taught how to use Desaliclean 9000, our seawater desalination device.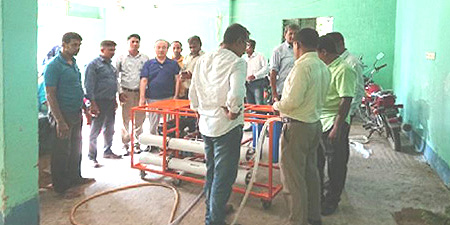 Mar. 2019
Oxfam introduced Desaliclean 9000 to supply drinking water in Bangladesh.
A world-renowned NGO, Oxfam, purchased our apparatus to create drinking water from seawater:Desaliclean 9000 (water throughput of 400 to 500 liters per hour) to supply drinking water in the saltwater area of Bangladesh.
From now on, this product may be purchased additionally in Bangladesh.
And it may be introduced in other areas where Oxfam is active.
Mar. 2019
We made a presentation at the 3rd Japan-India Workshop on Disaster Risk Reduction.
On March 18, The 3rd Japan-India Workshop on Disaster Risk Reduction, organized by the Japanese Government's Cabinet Office and the Indian Government's Ministry of Internal Affairs, was held at Bigyan Bhawan in Delhi.
Japan-India Workshop on Disaster Risk Reduction is held to exchange information such as disaster prevention policy between the two countries and to strengthen mutual cooperation.
This time, a session of "Corporate-City Cooperation" was set up independently, and we presented a bicycle water purification system(Cycloclean), recommended by the Japanese government and the Indian Embassy in Japan.
Regarding the start of local assembly of Cycloclean in Bhubaneswar, the capital city of Odisha, India from 2018, our Indian business partners in Japan are working on disaster prevention in India and for securing safe water. We introduced that Cycloclean will be able to supply a large amount of drinking water cheaply.

May 2018
Proposed to install Bangladesh Cycloclean in Rohingya refugee camp.
About 800,000 Rohingya people have been evacuated to Bangladesh from Rakhine State in Myanmar since August 2017.Bangladesh department of Public Health Engineering(DPHE) works with Japan's JICA and international organizations to help dig deep wells for the displaced.
In May 2018, we are in urgent consultation with DPHE to introduce Cycloclean, a bicycle water purification system, to remove pathogenic bacteria, odors, turbidity, etc. contained in shallow wells.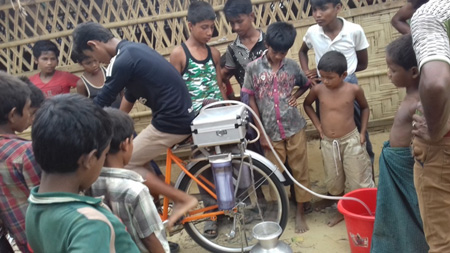 Jan. 2018
We want to export products manufactured in Bangladesh to Asia and Africa.
We would like to export the bicycle water purification system, which has started production at the Bangladesh, to Southeast asia and to India from 2018. We want to export to African countries in the future.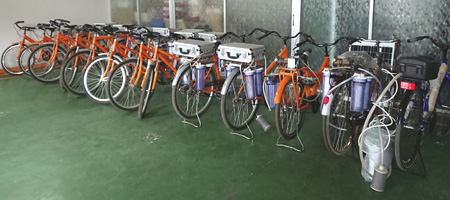 May 2017
Cyclolean was posted on official site of JICA.
Our, bicycle type purification system, Cycloclean was demonstrated and displayed at the booth by JICA at the 50th Asian Development Bank (ADB) Annual Meeting at Yokohama. Bangladesh Minister of Finance who attended the meeting spoke highly of the system, which led JICA to introduce us on their official page.→こちら

Jan. 10th, 2017
Started producing in Bangladesh.
We started to assemble both products, the Bicycle Water Purification System Cycloclean and the Mobile Purification System Cycloaqua at Bangladesh.
As one of our overseas strategies, we have been aiming for local assembly of products for a long time, and Bangladesh has our partner companies and good bicycle manufacturers, so we were able to establish assembly technology early with their cooperation. We supplied the core parts for both products from Japan, which were the filtration filters and the pumping device. Large reduction of cost was achieved by suppling other parts from local areas in Bangladesh, which led us to be able to supply a cost effective product to the overseas market.

Nov. 30th, 2016
Exhibition at Jakarta (Indonesia)
Indonesia was a country that had suffered frequently from earthquake disasters and to help support our general agency; PT Pratama Graha Semesta, they exhibited our Bicycle Water Purification System, Desalination machine and Carrycase type Water Purification System as one of the company out of 46 JETRO booths to do business. PT. Pratama Graha Semesta has inventory for all products/devices prepared for any emergency.