Jul. 2015
JICA Supporting to Overseas Expansion Project –Proposal Survey
Japan International Cooperation Agency (JICA) has adopted our project for "Establishing Community Disaster Preparedness by Utilizing Water Purification System Loaded on a bicycle" in the People's Republic of Bangladesh" in there SMEs (Small & Medium Enterprise) Proposal Survey.
The purpose of this survey was to provide information and gather business planning for the use of ODA projects by matching the needs of developing countries with products and technologies of Japanese SMEs.
First, we installed our Bicycle Water Purification System, Cycloclean, at a school in Bangladesh. Our plan was to supply water to local communities and schools, so that students can experience and educate themselves on the hygiene as well as how the water purifies, etc… With the cooperation from the local NGOs and communities, we aim to build a community that could prevent from natural disasters by constructing and strengthening local schools while examining the water supply system and purification by using Cycloclean.
February, March of 2015
Two Brazilian TV stations did a media coverage about our product, Cycloclean.
Since, Brazil has been going through serious water shortage, they were very interested in covering the functions of Cycloclean`s water purification system.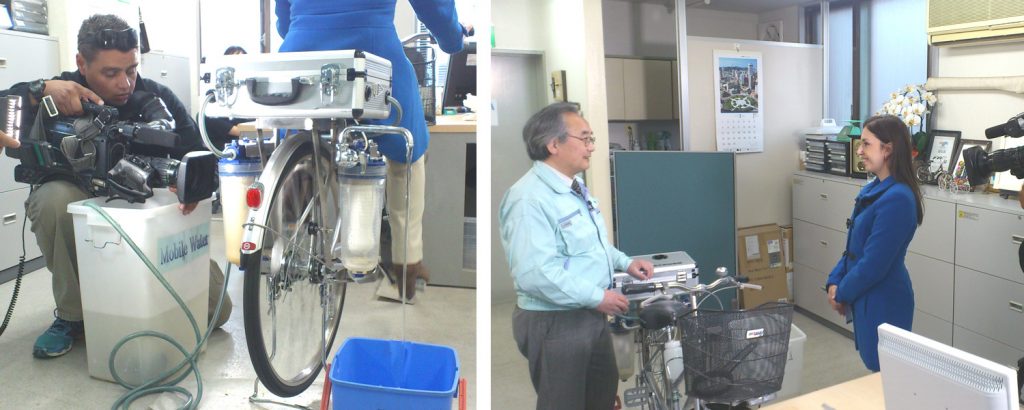 Dec. 16th 2014
Desaliclean 2501 was installed in office building.
To secure drinking water from rivers nearby office buildings in Tokyo area, they equipped our system Desaliclean 2501, since the nearby rivers contained sea and as well as industrial water.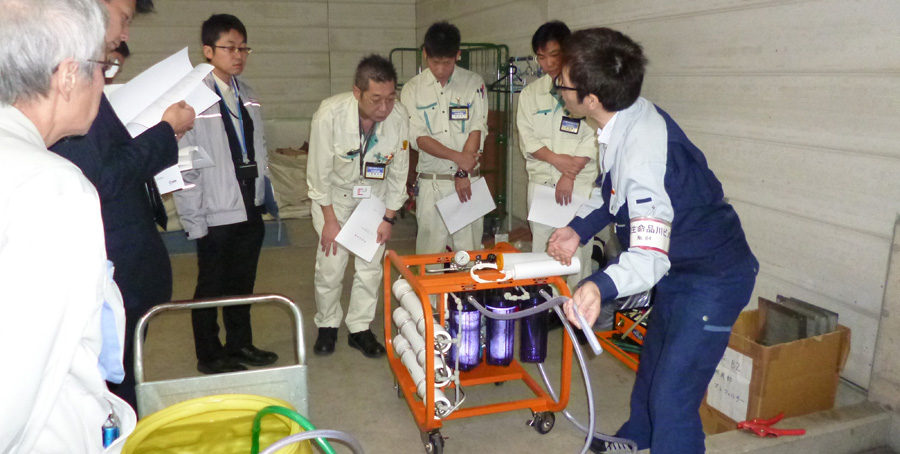 Oct. 16th 2014
Reporters from Asian Countries visited us to interview about our products.
At the "Advanced Technology from Japan to prove useful in Asian Countries", hosted by Foreign Press Center, eight Asian countries visited our company to interview about our water purification equipment and technical capabilities that were used in poor regions around the world. The interview was on the Malaysian Net News, dated on November 15th.
Jan. 31st 2014
The Japanese Red Cross Society (JRC) installed Cycloclean.
The location of the Japanese Red Cross Society at Osaka Branch was expected to have major damage on earthquakes, so they decided to install our "Bicycle water purification system".