Jul. 2013
Test Operation on Desaliclean9000 at Kameda Medical Center
Installed our Emergency Desalination machine "Desaliclean9000" at Kameda Medical Center.
Kameda Medical Center has a strong commitment to a lifesaving medical care.
Not only do they provide high-quality medical treatment, but they also engage highly on advanced medical care as well.
It was an essential for the hospital to secure a system that would provide drinking water on an event of a natural disaster.
There were skepticism from doctors if our system can really make seawater drinkable. However, on our test run on July 12th, we proved that our purification system was able to safely purify seawater to drinkable water.

May 2013
Started BOP business selling drinking water as private partnership with JICA at Bangladesh.
Started our business at Dhaka, capital of Bangladesh with our Bicycle Water Purification System, Cycloclean, by employing local people to row our bicycle in order to purify underground water and sell them to the poor.
We started this project to expect improvement of health and hygiene in an environment at slum districts and increase employment/income of Rikisha drivers. It took two years of testing and reaching out to the government of Bangladesh to get permit to selling bottled waters.
Currently, our bottled water is provided free of charge for recognition.
Locals that lived in slum areas did not have sanitary water, as well as having insects contained in them. Therefore, the bottled water we provided was complimented throughout the locals and restaurant owners in how transparent and taste of the water was. In the future, we are planning to sell our water reasonable for the poor to buy, in the price range of 20~25TK per gallon.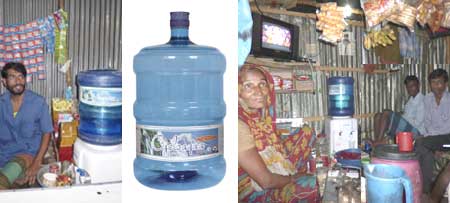 Nov. 30th 2011
The Newsweek (JAPAN) published an article about us.
Mud water turns instantly to drinkable water.
"Just riding a bicycle" turns muddy water in to drinkable water.
Bicycle Water Purification System, Cycloclean, was proven to be in great use during the Great East Japan earthquake.
"Bottled water arrived at shelters relatively quickly; however the hardest part was to secure water for daily use. Therefore, the water purification equipment attracted attention as a relief product and we were out of stock quite quickly," says Yuichi Katsuura, President of Nippon Basic Co.Ltd.
It may seem low-tech at first; however, the capability of this product is groundbreaking.
Since it's a bicycle, easy to transport on water resources,
It pumps up water by pedaling the pump that is on a cargo platform with the hose in the other end of a river, lake, pool, etc. The water is purified by going through four filters. (Cannot be used with seawater or water contaminated with chemical)
The usage of this system is not limited in one area. Moreover, the simplicity of this system can be a great resource to areas where clean water is scarce and to developing countries that cannot provide electricity or gasoline.
With the help of our company OB, we started our local production at Bangladesh this spring.
For safety reasons, we used filters that are made from Japan and to be produced 100~200 units a year.
In October, we were selected from "BOP Business Survey" by the Japanese International Cooperation Agency (JICA) to support business targeting to the poor. (Based on the pyramid)
From next year, we are planning to employ former "Rikisha" bicycle taxi drivers to pedal water and sell it for 1TK/ per liter. (Approx. 1.3 yen)
Our goal is to have former drivers make better wage, while people from slum areas can get cleaner and cheaper water. Nippon Basic Co. Ltd will run on "both wheels", first by preparing for disasters and secondly, to help improve lives in developing countries.
Apr. 2011
NHK(Japan`s National TV Station), Private Broadcasting YTV and TBS introduced our Emergency Bicycle Water Purification System, Cycloclean in their programs.
We were reported that Cycloclean`s effectiveness of supplying drinking water as a relief aid for the Great East Japan Earthquake. They also reported that orders and inquiries poured in from local governments in Japan as well.